Image Licensing Agreement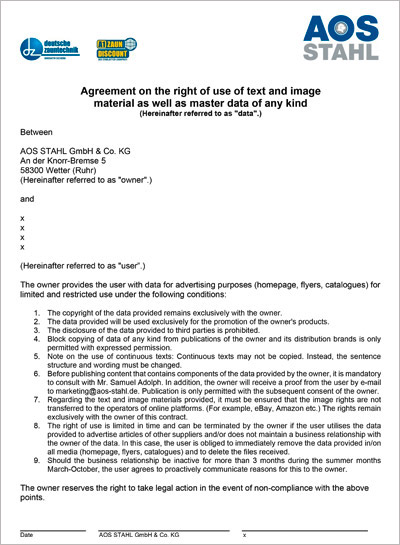 Here you can download the image licensing agreement: Download. Please sign it and fax it back to fax-no.: 02335 8873-2100.
No log-in is necessary for the freely available content. You can see the available content directly and navigate to the overview of files by clicking on the desired topic. After clicking the image of the selected file, you can download the file in the preferred size.
Please note the rights of use to which the documents and files provided are subject. All contents - image and text material - are subject to the copyright of AOS Stahl GmbH & Co. KG and may not be used for commercial purposes without permission.
Our business partners are granted rights of use for images and texts relating to our products, which are available via this media portal. If you are interested in a business partnership with AOS Stahl GmbH und Co. KG and would like to purchase products via the sales brand "deutsche zauntechnik", please contact us at info@deutsche-zauntechnik.de by telephone at +49 2335 8873-1100.